Travel is hot right now. It's peak season going into the spring and summer months when most people decide to take a vacation. Or if you are constantly traveling for business, then you understand the stressors of corporate meetings anywhere around the globe.
Corporate Travel Made Easy With Occasion Station Executive Gifts
For the person who loves to travel or the corporate c-suite executive on-the-go, there are quite a few gift ideas here at Occasion Station that will make your travels much more pleasurable. Let's explore 5 unique travel gifts, even to give yourself, for the person that loves to travel (or just has to for work!).
Unique Gift Idea #5
:
2018 Sugar Paper Agenda
You know all those time you are on an airplane, with all your digital equipment in airplane mode? This gorgeous Sugar Paper Agenda is perfect to take with you wherever you go so that you can still take notes, look at your calendar, and brainstorm ideas. On paper. Buy a nice pen to go with it and you're set up to work the old-fashioned way. Plus, this agenda just looks classic and sleek.
Lightweight and neutral, this is a messenger bag that will easily fit all your travel essentials, like your laptop or tablet, a snack, and even an eye mask for that really long fight overseas. With nine different colors to choose from, this is a sturdy bag that's in it for the long haul.
No, not for the zombie apocalypse, but this kit is geared towards the little odds and ends you might need while rocking your passport. You can even personalize the case with your name or initials. All TSA approved as well.
Who doesn't want to grab a great bottle of wine to take home if you happen to visit Napa or the Willamette Valley? This tote will make sure your treasured bottle of Lafite-Rothschild gets home in one piece.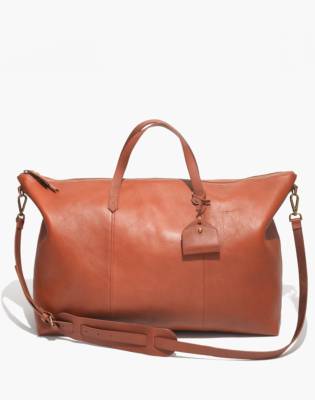 The best leather travel bag that will make just having a carry-on bag a dream. For those weekend jaunts that you just have to go on!
What's your favorite travel essential? Share it with us on our Facebook or Instagram page #sharetheoccasion.